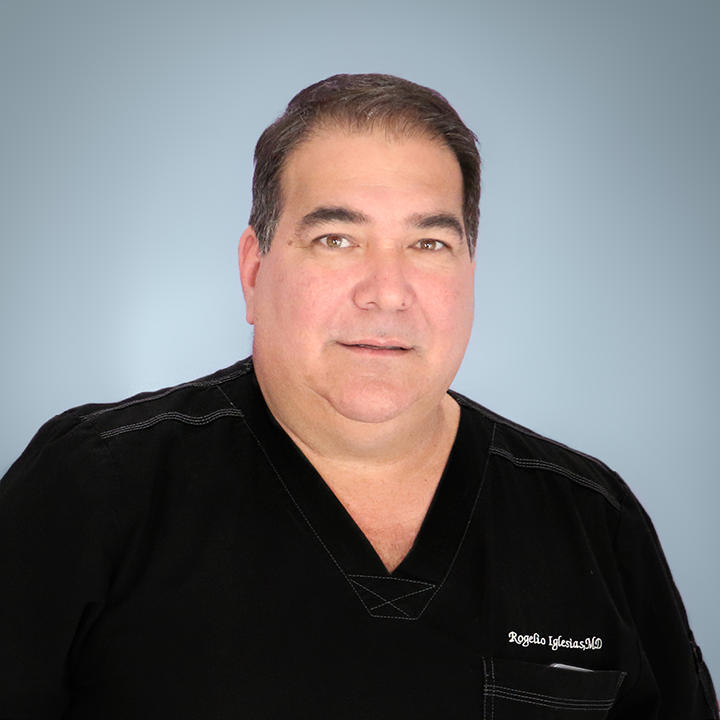 Meet Rogelio Iglesias, MD
At My Cosmetic Surgery, we are delighted to introduce you to the esteemed Dr. Rogelio Iglesias, a distinguished medical practitioner who has made significant contributions to the field of General Medicine. With a strong foundation in the medical sciences, Dr. Iglesias brings to our team a wealth of experience and expertise that spans over 28 years. His dedication to healthcare, acute and chronic diseases treatment, and general practice in primary health care has made him an invaluable asset.
Graduating with honors in 1988, Dr. Rogelio Iglesias began his illustrious journey in the medical field. He has since accumulated diverse experiences, especially in the realms of general practice and the treatment of acute and chronic diseases within primary health care settings. His commitment to providing comprehensive medical care is a testament to his unwavering dedication to patient well-being.
With his own medical practice in Miami, Florida, Dr. Iglesias has also collaborated extensively with fellow doctors and specialists, contributing to various medical groups in the area. His collaborative spirit and multidisciplinary approach underscore his commitment to delivering holistic care to his patients.
Since May 2012, Dr. Rogelio Iglesias has played a pivotal role as a Doctor of Medicine and Cosmetology at My Cosmetic Surgery. His unique blend of medical expertise and cosmetology insights further enriches the diverse range of services we offer to our valued patients.
Dr. Iglesias' academic journey is marked by rigorous training and educational accomplishments. He studied Medicine at the Superior Institute of Medical Sciences of Havana, Cuba, and graduated in 1988 after completing his internship at the Salvador Allende Surgical Clinical Hospital. He further honed his skills during his residency in General Medicine at Nueva Gerona and Turcios Lima hospitals in Cuba.
Upon moving to the United States, Dr. Rogelio Iglesias pursued further specialization. In 1992, he graduated from the University of Miami with a specialty in Family Medicine. His commitment to maintaining the highest standards in medical practice is evident from his certification by the Florida Board of Medicine in June 2002.
Dr. Iglesias' pursuit of continuous learning is demonstrated through his engagement in various advanced studies, including Chronic Painful Syndromes, Prevention of Medical Errors, Anticoagulants and Fibrinolytic Treatment, Domestic Violence, Pressure Ulcers, and Mesotherapy. This commitment to staying current with the latest medical advancements underscores his dedication to providing the best possible care to his patients.
In summary, Dr. Rogelio Iglesias embodies the values of My Cosmetic Surgery by bringing his extensive medical expertise, dedication to patient care, and commitment to continuous learning to our team. His well-rounded approach to medical practice and cosmetology enhances the comprehensive services we offer to our valued patients.
Associations, awards and recognition
Medical Researcher of the Humanity Health Medical Center
Academy Member American Family Medicine
Member of the American Association of Physicians
Frequently Asked Questions
Is Dr. Rogelio Iglesias a specialist in plastic surgery?

No, Dr. Rogelio Iglesias specializes in General Medicine. He has extensive experience in general practice, acute and chronic disease treatment, and even cosmetology. While he's not a plastic surgeon, his diverse medical expertise can still provide valuable insights into your overall health and well-being.
How can Dr. Iglesias assist with my plastic surgery journey?

Dr. Iglesias's medical background, combined with his cosmetology experience, allows him to offer comprehensive care that supports your overall health while considering cosmetic concerns. While he's not a plastic surgeon himself, he can collaborate with our team of specialists to ensure your holistic well-being.
How does Dr. Iglesias combine medicine and cosmetology?

Dr. Iglesias's unique blend of medical knowledge and cosmetology expertise makes him exceptionally equipped to provide holistic care. Whether you're seeking general health solutions or exploring cosmetic options, his comprehensive approach ensures you receive personalized and effective treatments.
What kind of medical training and education has Dr. Iglesias undergone?

Dr. Iglesias graduated in 1988 from the Superior Institute of Medical Sciences of Havana, Cuba. He completed his residency in General Medicine in various hospitals and later specialized in Family Medicine at the University of Miami. His commitment to continued learning is reflected in his additional studies in specialized areas such as Chronic Painful Syndromes and Anticoagulant Treatment.