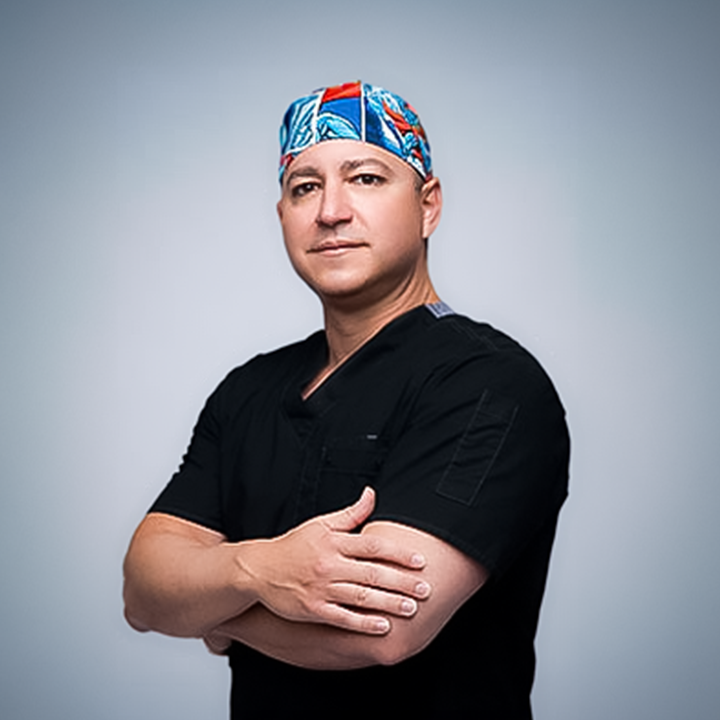 Dr. Andrés Vázquez brings 15 years of anesthesia expertise, with 8 years dedicated to cosmetic surgery. Known for his dedication, Dr. Vázquez ensures your surgical experience is comfortable and safe, performing thorough evaluations and providing meticulous care throughout every step of the process. Trust in his proficiency and commitment to your well-being as you embark on your transformative journey with My Cosmetic Surgery.
Meet Andrés Vázquez, CRNA-MNA
At My Cosmetic Surgery, we take immense pride in introducing you to Dr. Andrés Vázquez, a certified anesthesiologist who brings a wealth of expertise and dedication to our team. With a remarkable fifteen years of experience, including eight years in the realm of cosmetic surgery, Dr. Vázquez is a cornerstone of our commitment to ensuring safe and comfortable surgical experiences for our patients.
Dr. Vázquez's dedication to his craft is evident in his role as a certified anesthesiologist. He holds a pivotal role in ensuring patient comfort and safety throughout the surgical process. With a specialization in anesthesia applied to cosmetic procedures, his expertise is vital in creating a smooth and stress-free surgical experience.
His journey to becoming a certified anesthesiologist is a testament to his commitment to excellence. Dr. Andrés Vázquez completed his Associate Degree in Nursing (ADN) at Miami Dade Community College in 1994. He then pursued Nursing Science (BSN) at Florida International University (FIU) in 1997 and 1998, further enhancing his foundation in medical science.
However, his pursuit of medical expertise didn't stop there. Dr. Vázquez continued his educational journey by undertaking a Master's degree in Nursing and Anesthesiology (MNA) at the University of South Carolina School of Medicine. In 2001, he proudly graduated with a Master's Degree in Biomedical Sciences and specialization in Anesthesia.
Dr. Andrés Vázquez plays a crucial role in the surgical process at My Cosmetic Surgery. His expertise in administering anesthetic agents, coupled with his mastery of various analgesic techniques, ensures that patients experience minimal discomfort during procedures. Prior to surgery, he conducts thorough physical and psychological evaluations to anticipate any potential complications and devise appropriate strategies.
During the surgical intervention itself, Dr. Vázquez remains steadfastly by the patient's side, monitoring vital functions and ensuring their comfort and safety. His meticulous attention to detail extends to postoperative care, where he administers pain relief and offers guidance on resuming normal activities.
In essence, Dr. Andrés Vázquez epitomizes our commitment to patient well-being at My Cosmetic Surgery. His expertise, dedication, and personalized care contribute significantly to the overall positive surgical experience that we offer to our esteemed patients.
Associations, awards and recognition
Florida Board of Nursing
Registered Nurse Anesthetist Certification (CRNA)
Member of the American Association of Nurse Anesthetists
Frequently Asked Questions
What is Dr. Andrés Vázquez's expertise in anesthesia?

Dr. Andrés Vázquez is a certified anesthesiologist with extensive experience in the field, particularly in the realm of cosmetic surgery. With over fifteen years of practice and eight years focused on cosmetic procedures, his specialized knowledge ensures your safety, comfort, and well-being during surgery.
How does Dr. Vázquez ensure patient comfort during surgery?

Dr. Vázquez is dedicated to your comfort throughout the surgical process. He conducts comprehensive pre-surgical evaluations, collaborates closely with the surgical team, administers appropriate anesthetic agents, and continuously monitors your vital functions. His presence and expertise ensure you are comfortable and well-cared for during the entire procedure.
What role does Dr. Vázquez play after surgery?

After your surgery, Dr. Vázquez's care doesn't end. He administers treatments for postoperative pain and nausea, guiding you on the best time to resume eating and drinking. His expertise ensures a smooth transition from surgery to recovery, helping you have a comfortable healing experience.
How does Dr. Vázquez contribute to patient safety?

Dr. Vázquez is an integral part of ensuring patient safety during surgery. He meticulously monitors your vital functions, maintains proper functioning of monitors and systems, and checks anesthetic drugs. His vigilant oversight, expertise, and collaboration with the surgical team contribute to a secure and successful surgical experience. For more information or to schedule a consultation with Dr. Andrés Vázquez, don't hesitate to reach out. Your comfort, safety, and well-being are his priorities as you embark on your journey to enhance your natural beauty.